On September 20, 2017, in celebration of the Mid-Autumn Festival in China, the Embassy of the Plurinational State of Bolivia and Beijing Jintai Art Museum jointly held an exhibition titled "Bolivia in the eyes of Chinese and Bolivian Artists- Mamani Mamani and Chengsong Yu". Bolivian Ambassador to China Heriberto Quispe Charca, First Secretary & Consul Jorge L. Cayoja A. as well as other officials presented at the exhibition. Rising representatives together with Chinese and foreign artists, media were invited to the exhibition.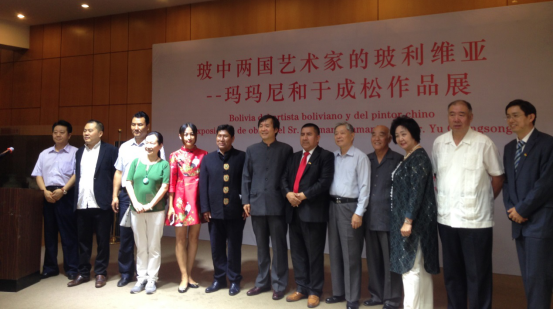 Mamani Mamani and Chengsong Yu addressed respectively at the begining, introducing Bolivia's nature beauty and humanity characteristics in their works on display. The audience then enjoyed a folk costume show whose work is significant in its use of Aymaran indigenous tradition and symbols by Mamani Mamani. After that, the wonderful folk dance performed by the Bolivian actors won lots of applause.
The outstanding works on display showed different angles of Bolivia by the two countries artists. It is so impressive that Mamani's use of strong vibrant colors was in striking and deliberate contrast to Chengsong Yu's black and white Chinese ink paintings.
At the exhibition, Rising representatives had small talks with Bolivian Ambassador to China, Heriberto Quispe Charca and First Secretary and Consul Jorge L. Cayoja A, paving the way for possible future cooperation opportunities. The exhibition ended in a pleasant and friendly atmosphere.